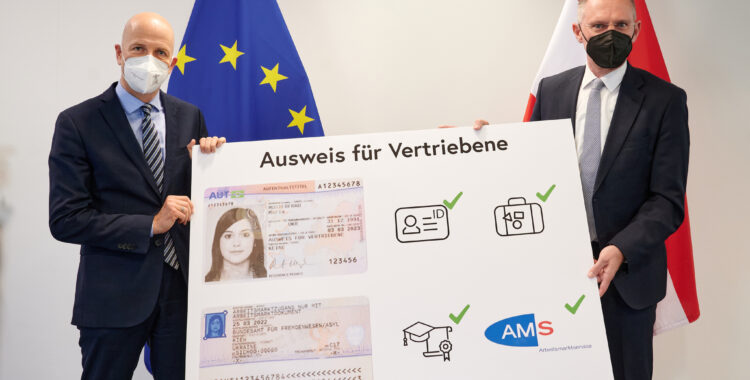 Hiring refugees from Ukraine – how?
The war in Ukraine is leading to a massive influx of qualified workers to Austria. Many domestic companies therefore are interested in hiring refugees from Ukraine. What has to be considered, when doing so?
Basic regulation on refugees and asylum seekers:
Asylum seekers
Asylum seekers are persons whose asylum procedure has not yet been completed. In general, they cannot be employed. The only possibilities are employment as a seasonal worker, if a work permit is granted, or a volunteer position.
Recognized refugees
Recognized refugees are persons whose asylum procedure has been completed with a positive administrative decision. They have free access to the Austrian labor market thus the same regulations as for Austrian citizens are applicable.  Initiatives for the placement of recognized refugees can be found, among others, at the AMS (Austrian Public Employment Service).
The same status is granted to "beneficiaries of subsidiary protection." They have not been granted the right to asylum, but have nevertheless been granted a right of residence due to other reasons of protection (e.g. imminent torture or threat to life in the country of origin).
Special regulation for refugees from Ukraine:
The Austrian legislature reacted quickly to the conflict in Ukraine and the resulting emergency situation. Therefore, it enacted the Regulation on Displaced Persons (Vertriebenen-Verordnung) on the 11th of March, 2022.
The Regulation on Displaced Persons stipulates that citizens of Ukraine are granted a temporary right of residence in Austria and can therefore also be employed and hired in Austria. This right of residence lasts at the least until the 3rd of March, 2023 and is automatically extended by 6 months unless otherwise decreed. It applies to the following people:
Citizens of Ukraine and their family members (spouse, minor children, close relatives in the same household).
Other persons who had been granted international protection status in Ukraine
Citizens of Ukraine who were already residing in Austria before the beginning of the war
Since the 25th of March 2022 these persons can obtain the "ID card for displaced persons". It is a valid identity and travel document throughout the whole Schengen area. It is sent to the persons concerned after registration at a police station or registration center. The ID card for displaced persons grants all refugees from Ukraine swift access to the Austrian labor market.
If a company wants to hire refugees from Ukraine, it has to send the application for employment permit for displaced persons, with a copy of the ID card to the AMS. In a simplified procedure, the employment permit will then be issued as quickly as possible.
It should be noted that according to section 4 para 1 item 7 Law on the Employment of Foreign Nationals (AuslBG) personnel service providers are not allowed to employ Ukrainian refugees. In these cases, no employment permit will be issued, which thus precludes any personnel leasing.
---
Interested in employment law? Have a look at out article about the access of the employer to the e-mails of the employees.